Democrats
The Democrats held the Presidency in 1968, but were plagued by losses, chaos at the Democratic National Convention in Chicago in August, and the challenge from Richard Nixon and southern politician George Wallace. Hubert Humphrey loses to Richard Nixon.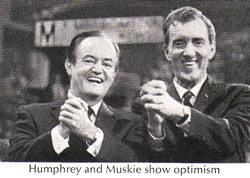 ---
January
President Lyndon B. Johnson has gained in popularity. He's up to a 46% approval rating (up 8 points from October low).
In a poll of the California State Legislature, 33 out of 50 think Ronald Reagan will be an active Presidential candidate; 38 out of 50 say he's unqualified.
Robert Kennedy endorses LBJ, but says he agrees with Eugene McCarthy on the war issue.
John W. Gardner resigns as Secretary of Health, Education, and Welfare.
Nixon warns of a "pre-planned racial war" during the coming summer as an election issue transcending the Vietnam War.
Robert S. McNamara resigns as Defense Secretary to become President of the World Bank. Clark Clifford is named new Defense Secretary.
The American Independent Party (George Wallace) and the Peace and Freedom Party qualify for the ballot in California.
White House "fellows" (aides) were allowed to be seated on the floor of the House to hear the State of the Union speech--except for the femles. William "Fishbait" Miller, House doorkeeper, says that Sam Rayburn gave the order: "He told me not to let any girls on the floor."
LBJ's budget is set at $186.1 billion, 44% of which is earmarked for defense.
February
RFK is cheered in Kentucky.
Dean Rusk blasts the press for criticizing the war.
March
Cesar Chavez ends 25-day fast. Robert F. Kennedy is there to share bread with him when fast ends.
Eugene McCarthy gets 41% of the vote in the New Hampshire primary against LBJ in a "surprisingly large" anti-war vote.
RFK enters the Presidential race, challenging LBJ. McCarthy's good showing encourages him ("the party is already split").
Gallup Poll says LBJ's popularity is dropping "like a lead ballon."
The Yippies hold a press conference in New York: "A Yippie is what happens to a hippie when a cop hits him over the head." The Youth International Party announces its intent of swooping in on the Democratic Convention in Chicago to make love, make merry, and make fun of the electoral process.
LBJ announces he won't run for another term as President.
April
LBJ's popularity has sunk to 36%.
Hubert H. Humphrey has decided to run for President. Frank Sinatra will campaign for him.